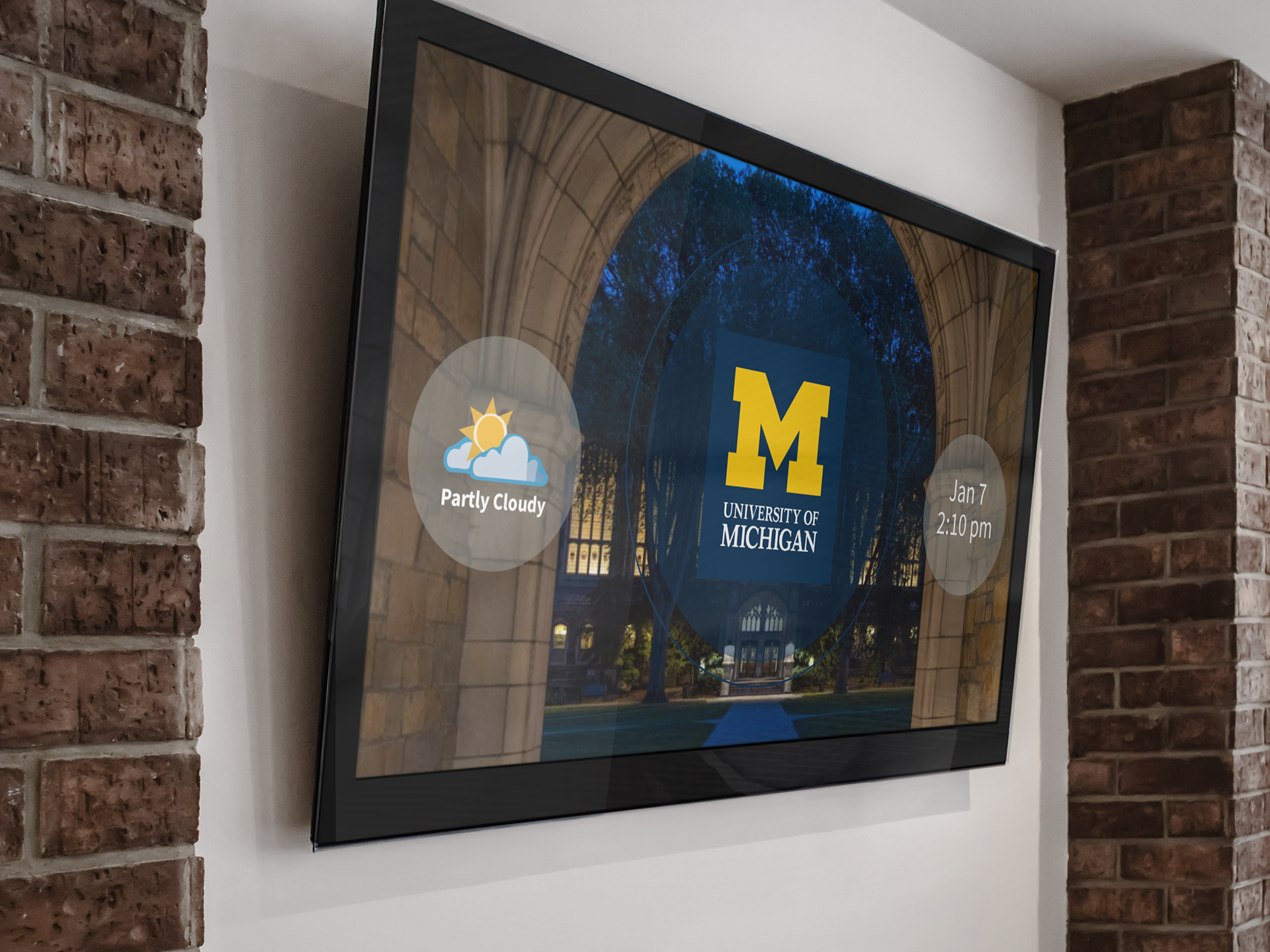 Role:

 UX Designer Intern, Remote
Description:

 Enhance the service strategy of the organization by optimizing the digital signage service offering
​​​​​​​
Duration:

  May 2020 - Aug 2020
Tools:

 Adobe Illustrator , Content Management System
Client:

 University of Michigan (U-M) Information & Technology Services (ITS)
______________________________________________________________________________________________
Make Sign Builder's Lives Easier
To address the needs of signage customers, ITS wanted to develop guidelines and recommendations for how to improve and maximize the value of the digital signage service. 
A Short-Cut to Digital Signage  
Pre-built Digital Signage Templates 
~Designed to fit common use cases, and gives users a jumpstart on their digital signage 
~Customizable to address needs 
~ Allows sign builders to access and utilize pre-built signage templates 
Pre-built Digital Signage Templates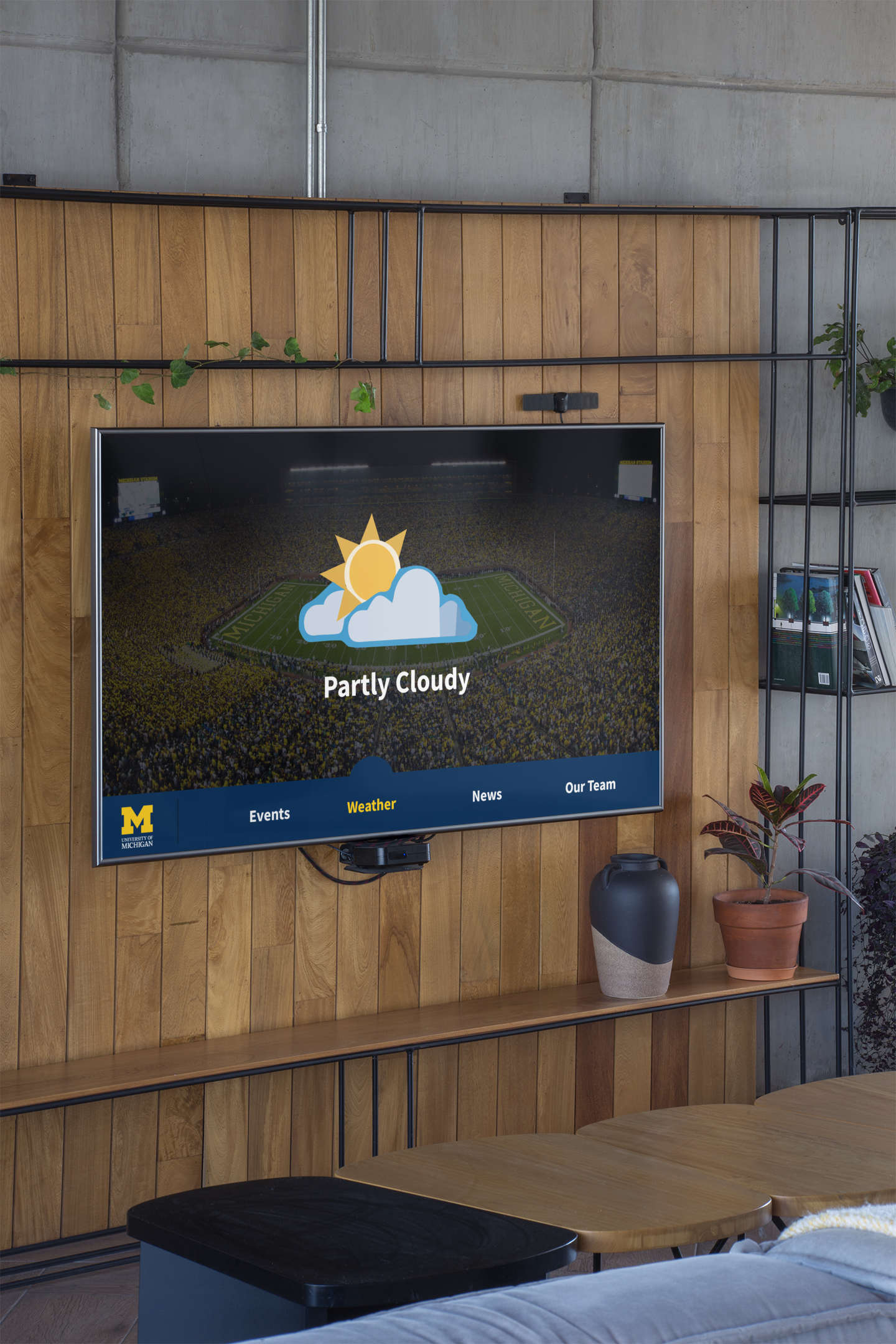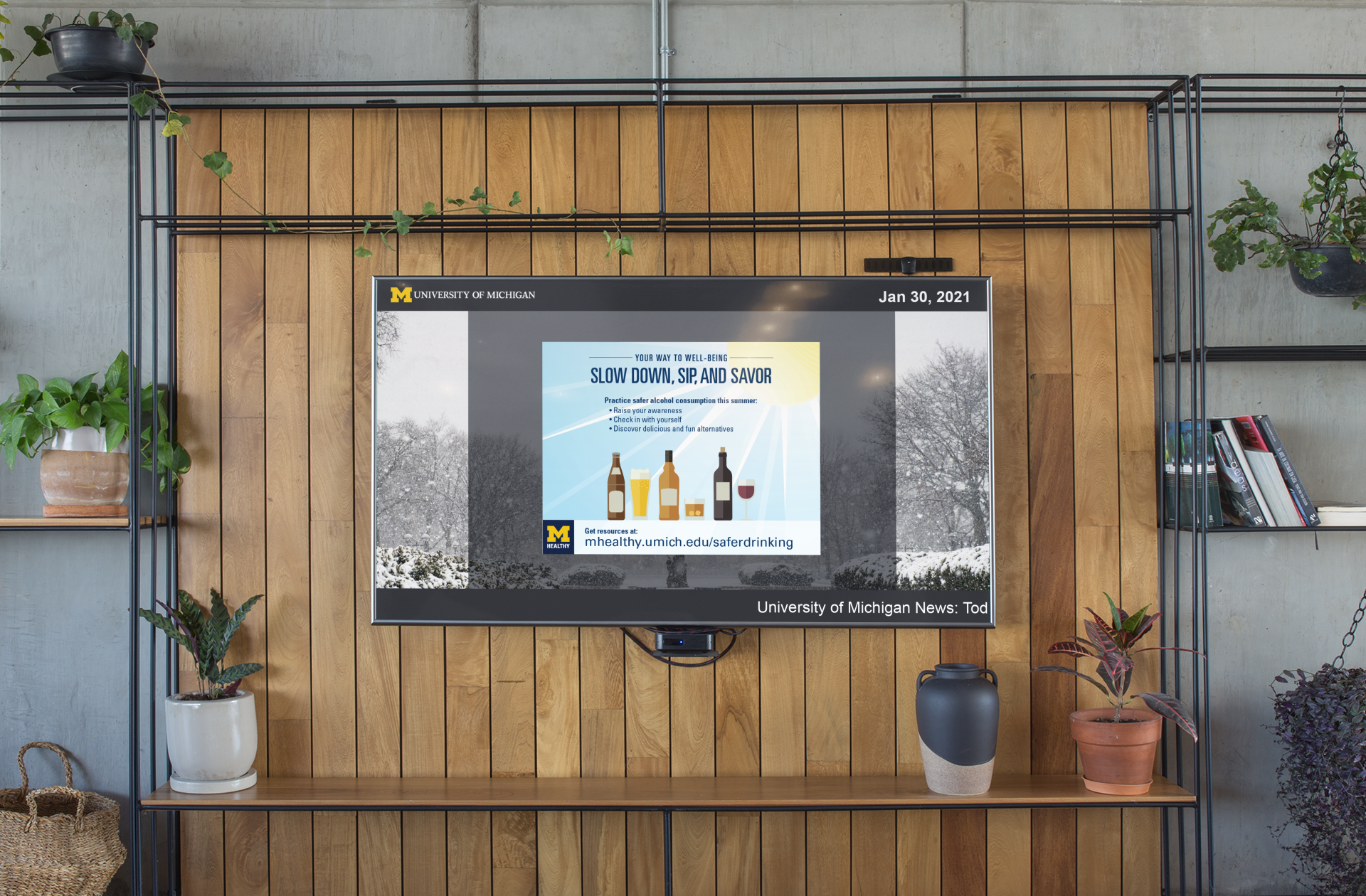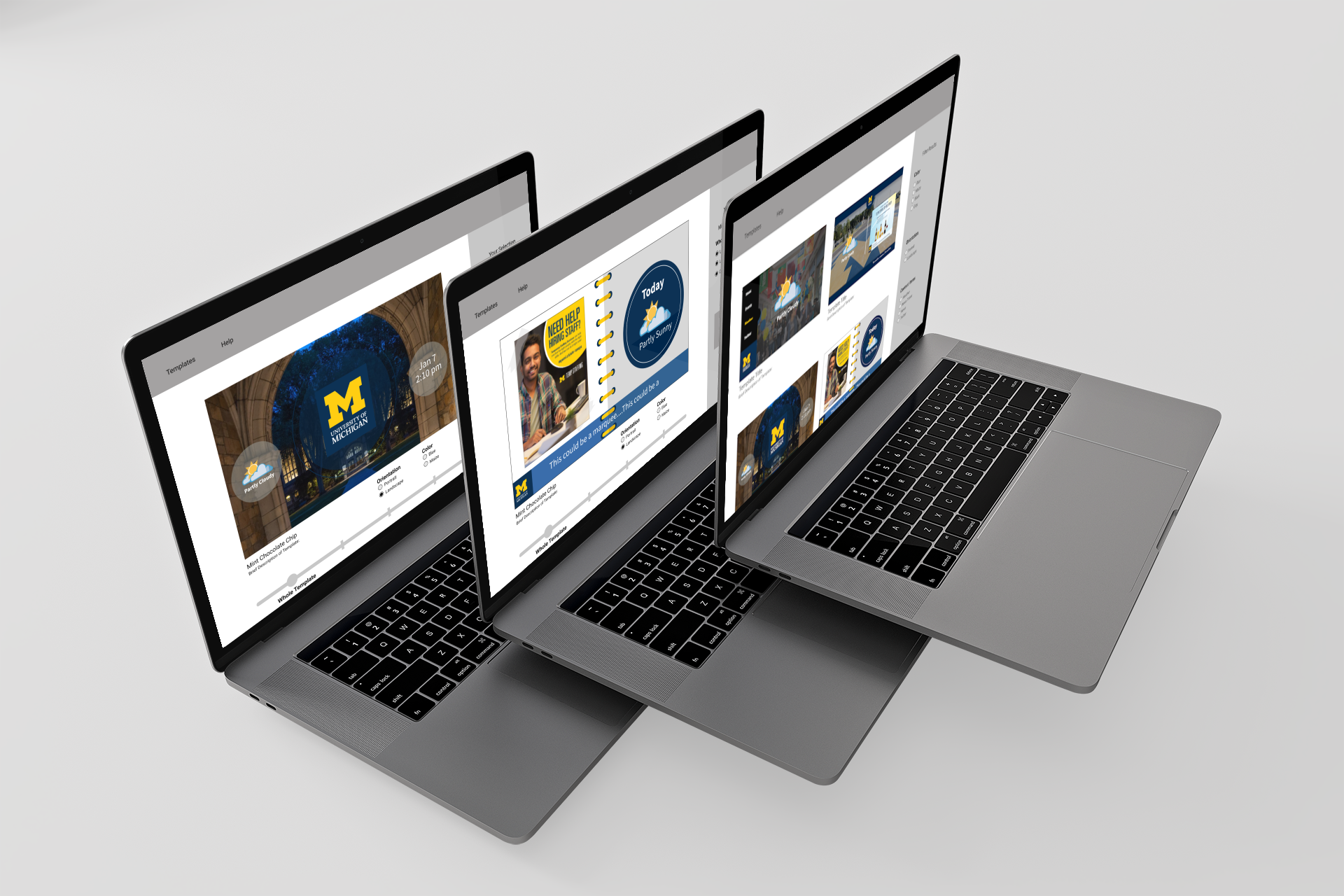 Improving the Approach to Digital Signage 
Digital Signage Best Practices Guidebook
~Resource for sign builder's to learn about how to effectively communicate their messaging on a digital sign. 
Digital Signage Design Tips Infographic 
~A bird's eye view of signage best practices 
Digital Signage Best Practice Guidebook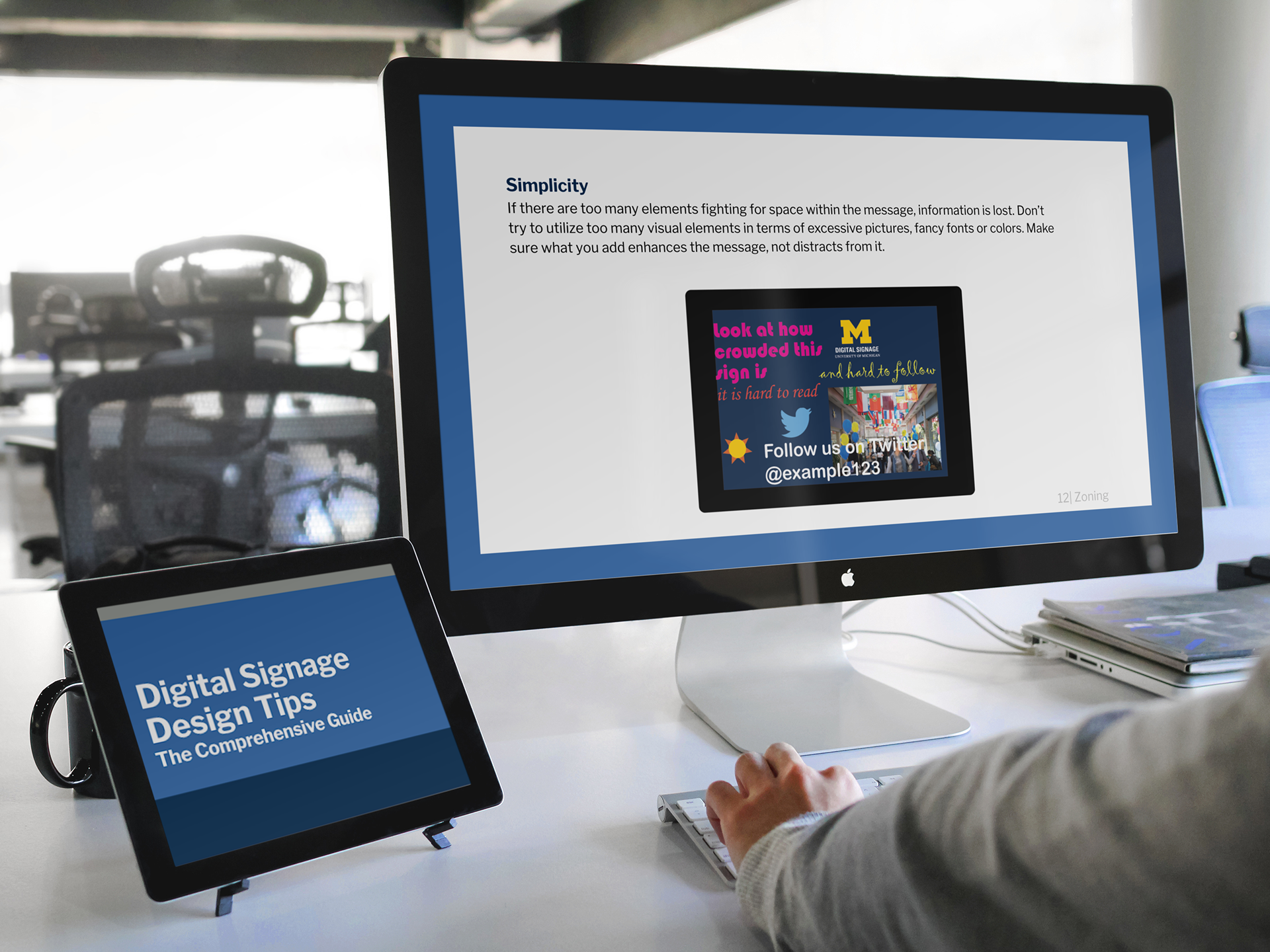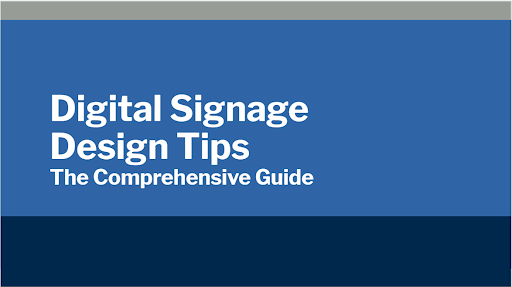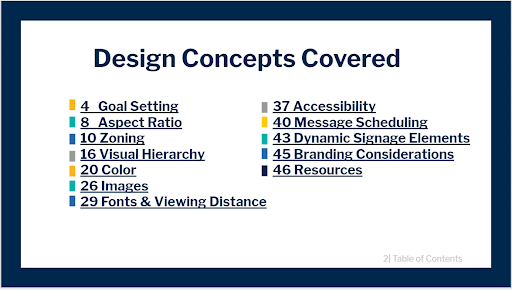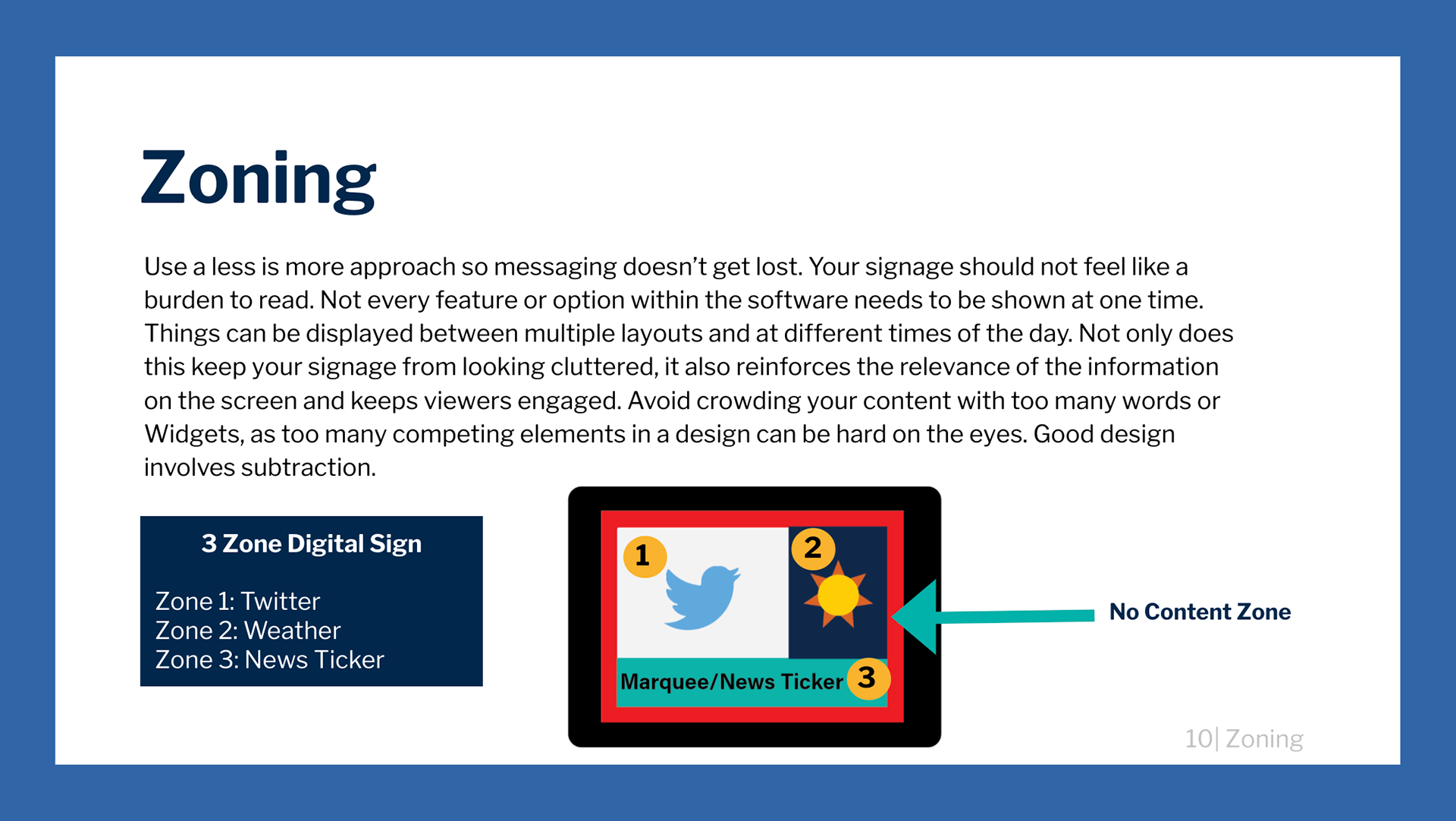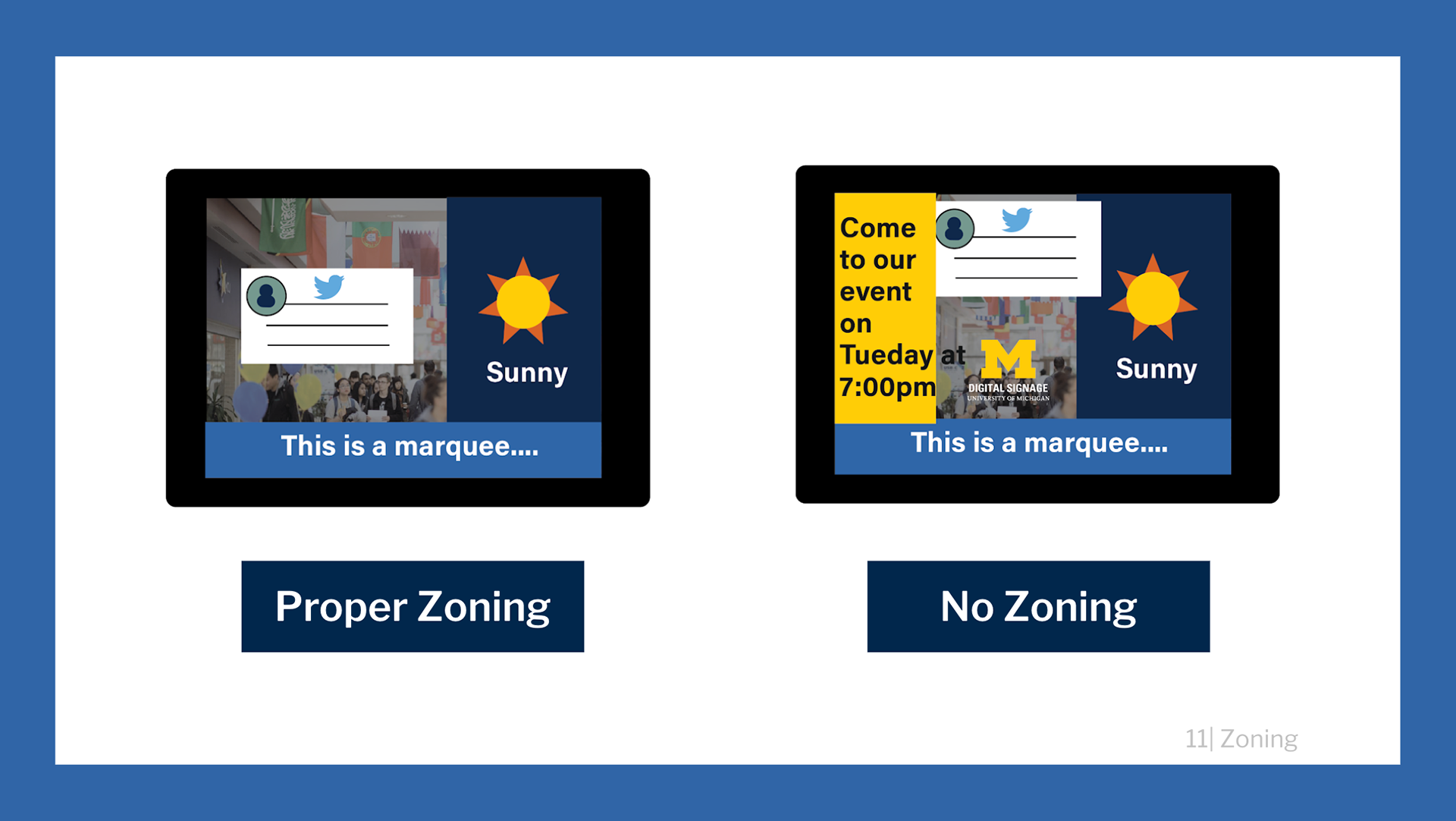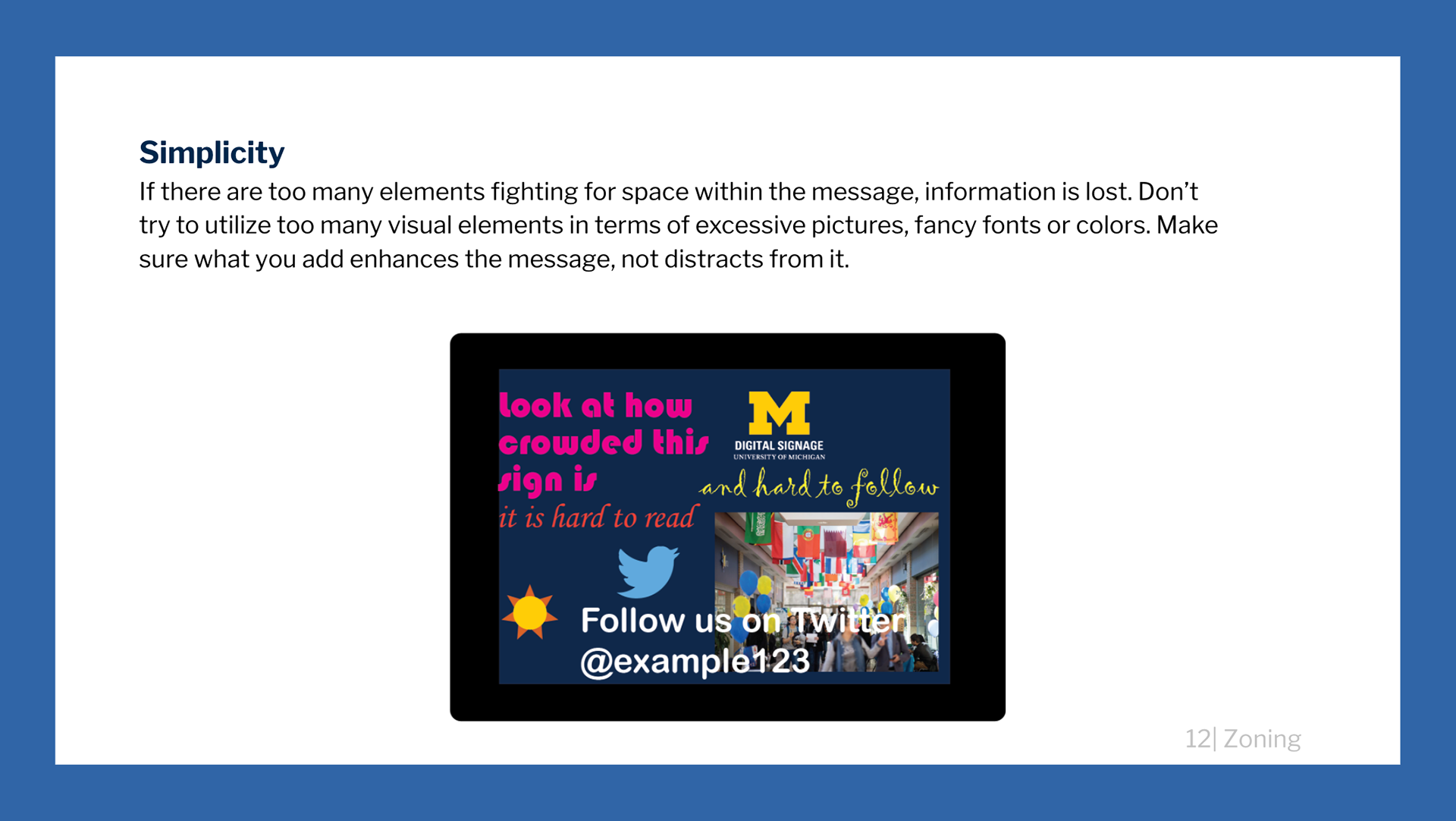 Digital Signage Design Tips Infographic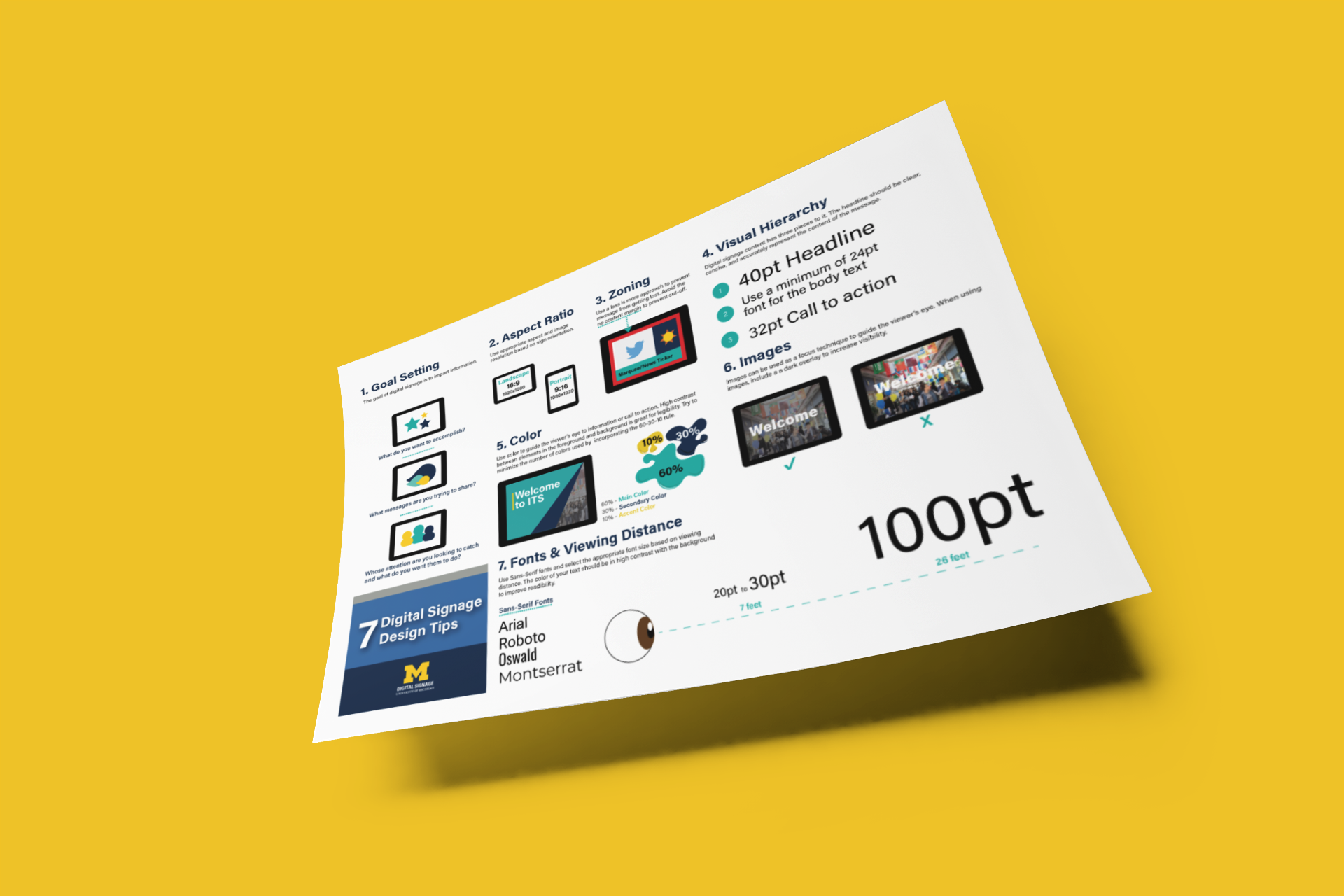 Discovery on the Digital Signage
Service
ITS manages the hardware, but customer's are on their own when it comes to content presentation 
~ ITS manages over 800 digital signs across U-M campus
~ Core signage service limited to: infrastructure, software platform, & how to use it. 
Pain point:
With signage being used for visual communication customers often expect more guidance on ways to effectively communicate their message. 
1. A toolkit for sign builders  
2. Customizable solution to address range of sign build 
Empathy Building: Walking in a Digital Signage Customer's Shoes
1. ...And other duties as assigne
d
Most sign builders inherit their signage responsibilities and are responsible for managing sign content in addition to their primary job. 
2. Most signage customers are not designers
Many sign builders are not familiar with design and digital signage best practices. 

3. Navigating the content management system can be difficult 
Sign builders have a desire to update stale content,  but the content management system is not user-friendly. 
Evaluating the Current State of Signage  
Content Everywhere inspired my approach to this step in the process. 
I assessed the various ways digital signage content is currently being used around campus noting quantitative and qualitative features. 
Primary use case:
News & Events
Audience:
Content on sign is meant to
appeal to mixed audiences
Most Common number of Regions on Sign
: 1, 3, 4. 
Most Common Content on Sign
: Events, Weather, & Marquee
The types of content that sign builder's use:  
Weather, Transportation, Marquees, Logos, Date/Time, Videos, Social Media, & Buttons.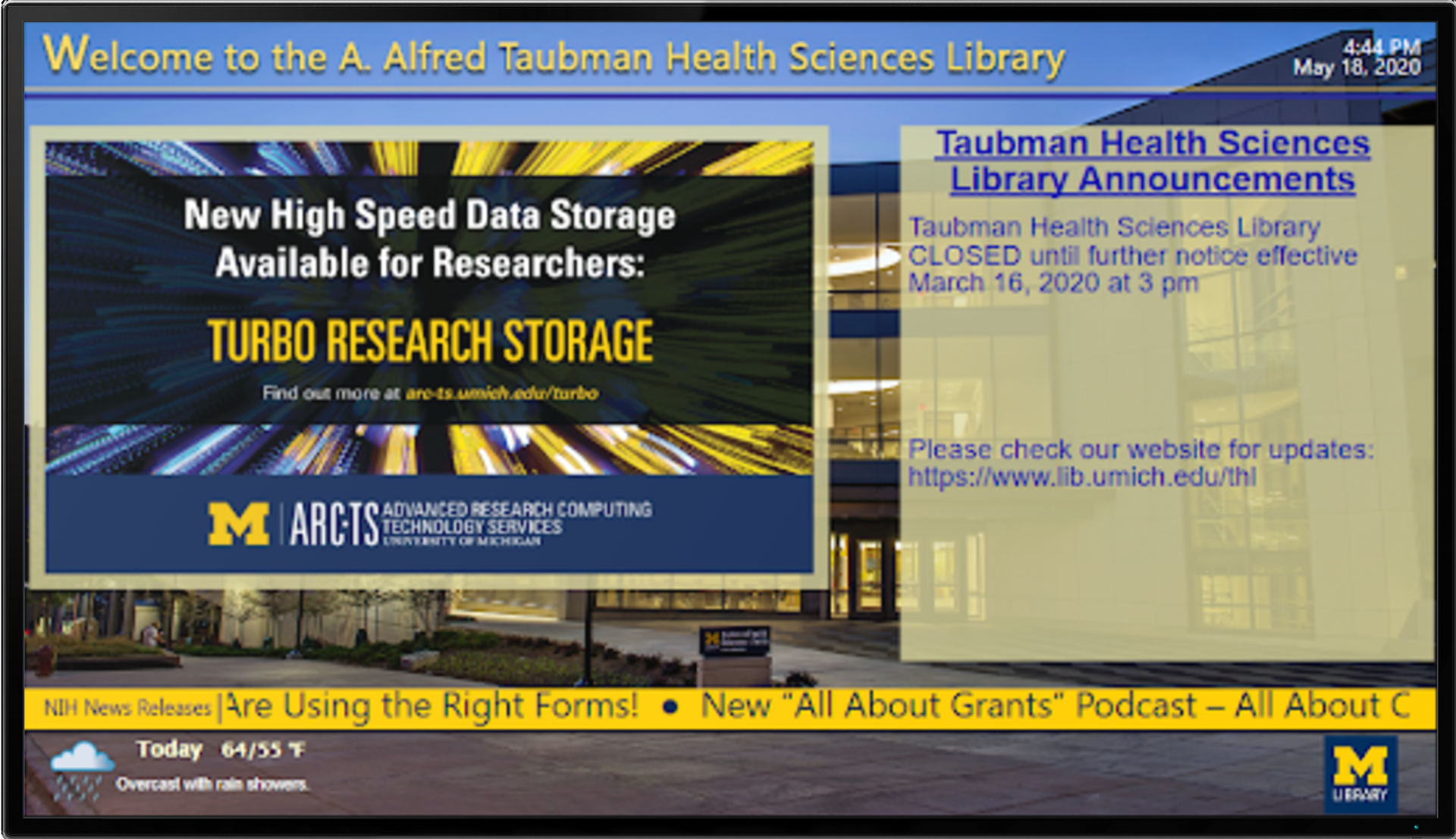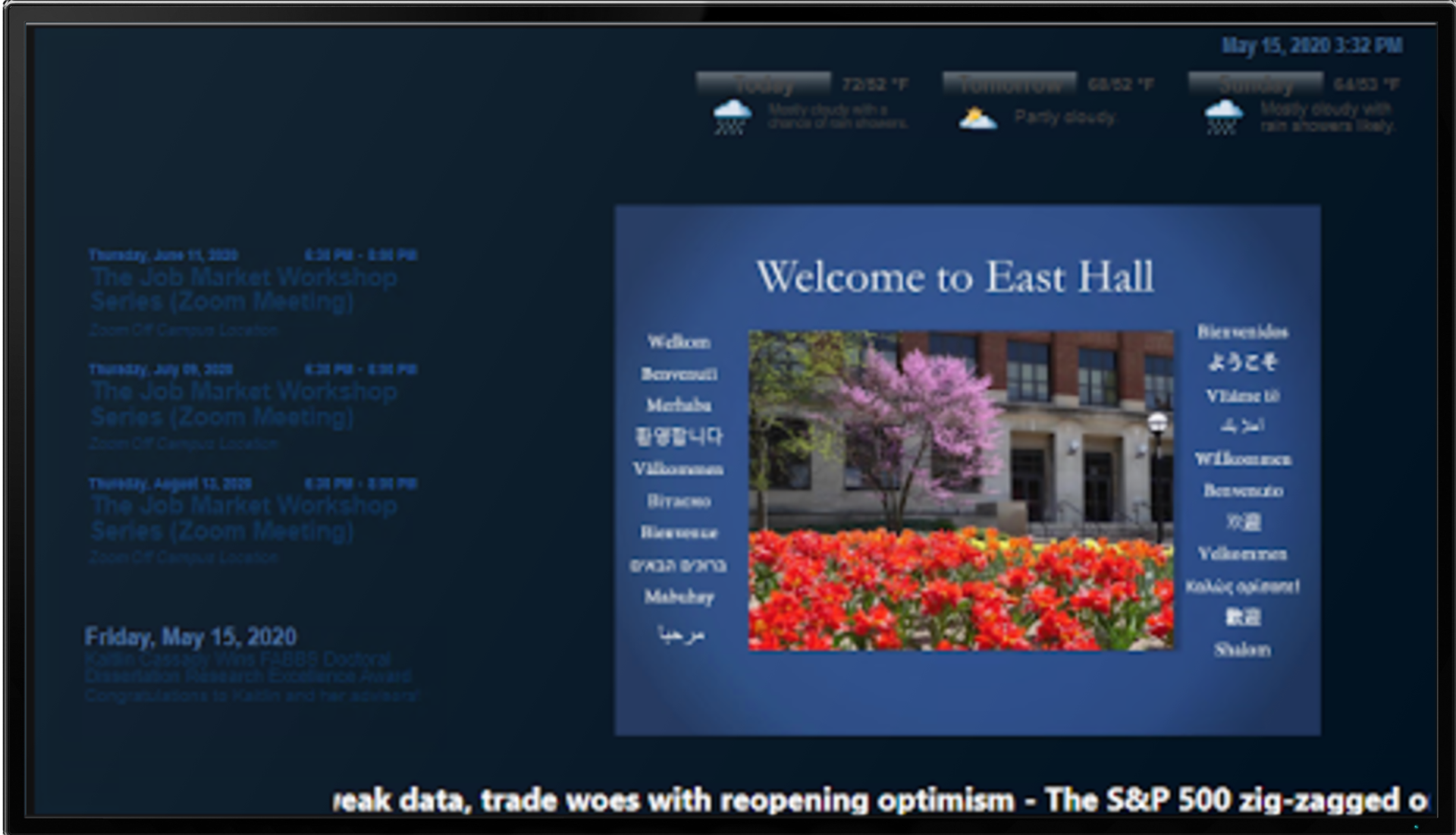 Wireframes of Existing Digital Signage Revealed How Sign Builder's Organize Their Content
1. The bottom of signs were typically used for marquees and buttons. 
2. 1 region signs are typically used for flat images. A flat image, is an image designed in another program, and uploaded in the CMS. This may come from a flyer/poster from another marketing channel being displayed on a digital sign.  
3. Many departments utilize the same signs throughout campus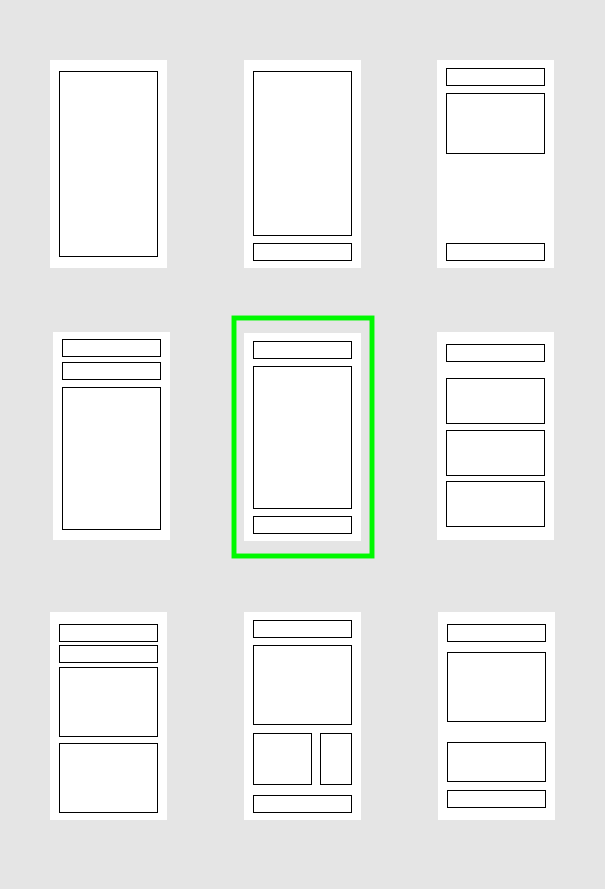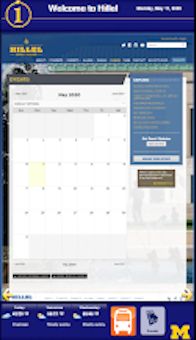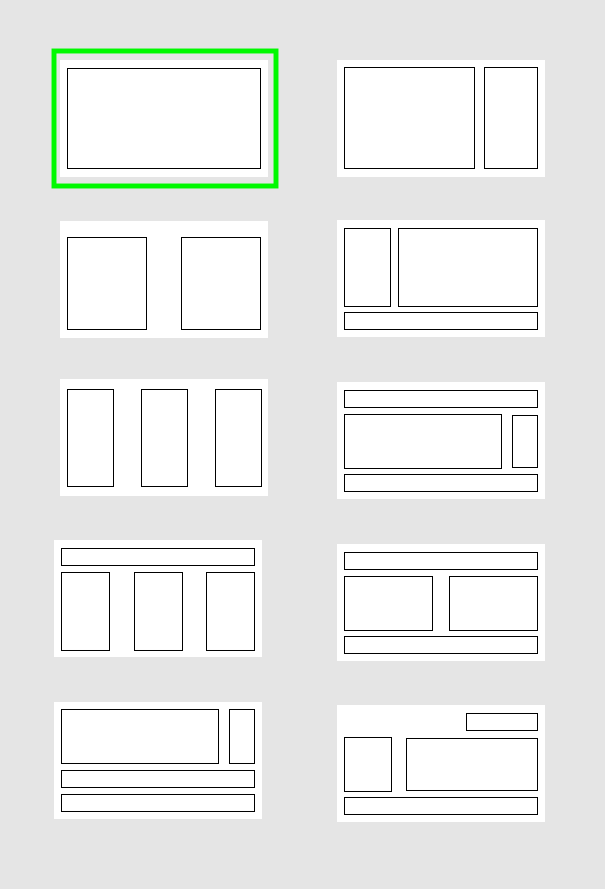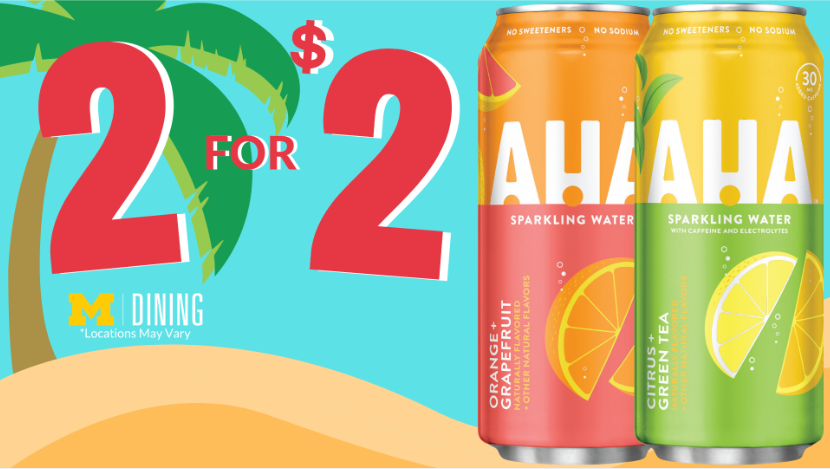 Analyzing Data to Identify the Areas of Opportunity for Digital Signage ​​​​​​​
1. Provide content managers with a better idea of how to present content based on expectations of exposure, location, & readability.
Nearly 40% of short exposure signs have high and medium density content. Which indicates that some some sign builders understand how much information to present at a given time.
2. Content managers may not be taking advantage of the dynamic and interactive digital signage offerings.
Due to flat image usage  and lack of digital sign widgets
3. Content managers use digital signs to highlight events.
Event Advertising account for a little over half of all signs. However, due to other high and medium density content, present on event signs, Content Managers may be missing effective advertising opportunities. 
Researching Digital Signage Resources
U-M did not have a digital signage guide for its customers
I reviewed a variety of resources from digital signage stakeholders to learn about digital signage best practice. Other university's also have resources to address their signage customers. 

Providing a Tool-kit for Sign Builders
Improving the service strategy at ITS by approaching a digital sign as its own medium 
Content Presentation: imparting information
~Digital Signage Infographic 
~Digital Signage Guidebook 
Content Management: managing information 
~Pre-built Templates
~Template Storefront 
The Best Practices Infographic
What is the minimum information needed in order to effectively communicate through a digital sign? 
Goal, Typography, Images, Hierarchy, Color Usage/Contrast, Aspect Ratio, Layout, Zones, Timing
Sketch: The building blocks of digital signage
1. One-Page resource for both print/digital users 
2. Distilling down to seven signage topics
3. Image/graphic for each topic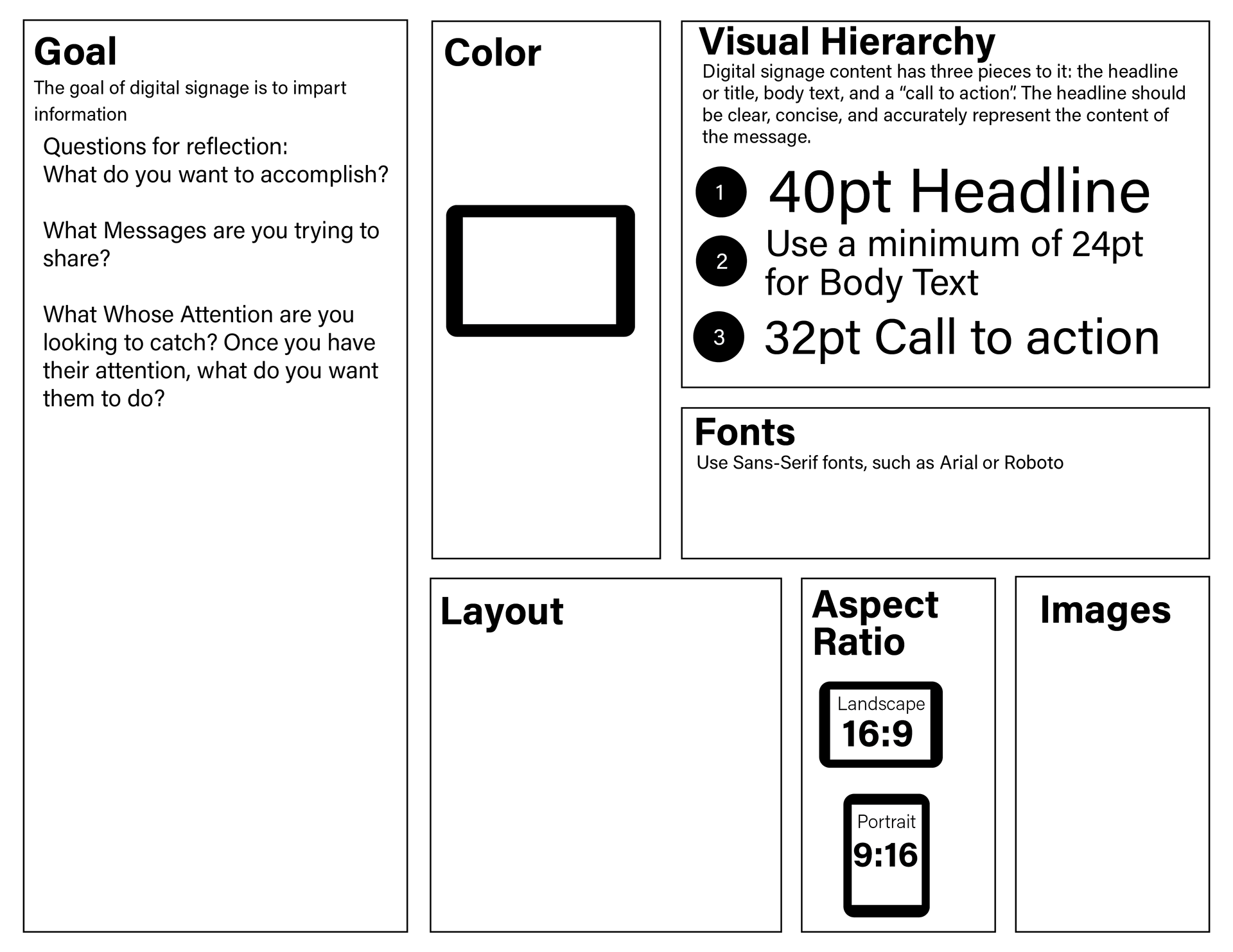 Iterate: Including detail & context  
1.  Including a description & graphic for all topics 
A brief description was added for each topic to provide context
2. Adjusting the layout to fit the signage construction journey
Numbered tips help guide the users through the process
3. Ditching the block approach
Information felt too dense with the level of detail provided.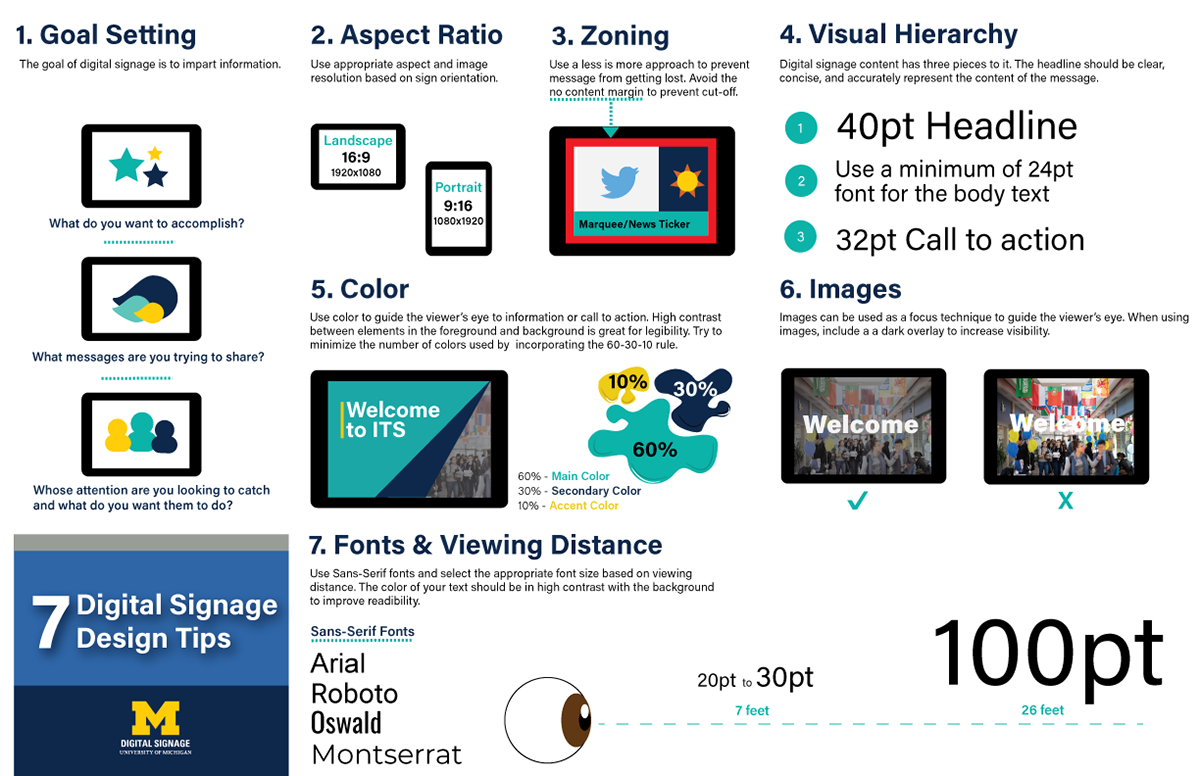 The Best Practices Guide 
Brainstorm: Providing breadth & depth on best practices 
1. Include visual explanations
2. Provide additional considerations for signage from the infographic
3. Avoid overwhelming customers by the density of information 
Sketch: Avoiding information overload 
Existing Digital Signage Resources:  
1. Dense and information rich 
2. Many images/graphic explanations
3. Included topics not as relevant to ITS customer
4. Not personalized to the ITS signage customer
Visualizing Best Practice Techniques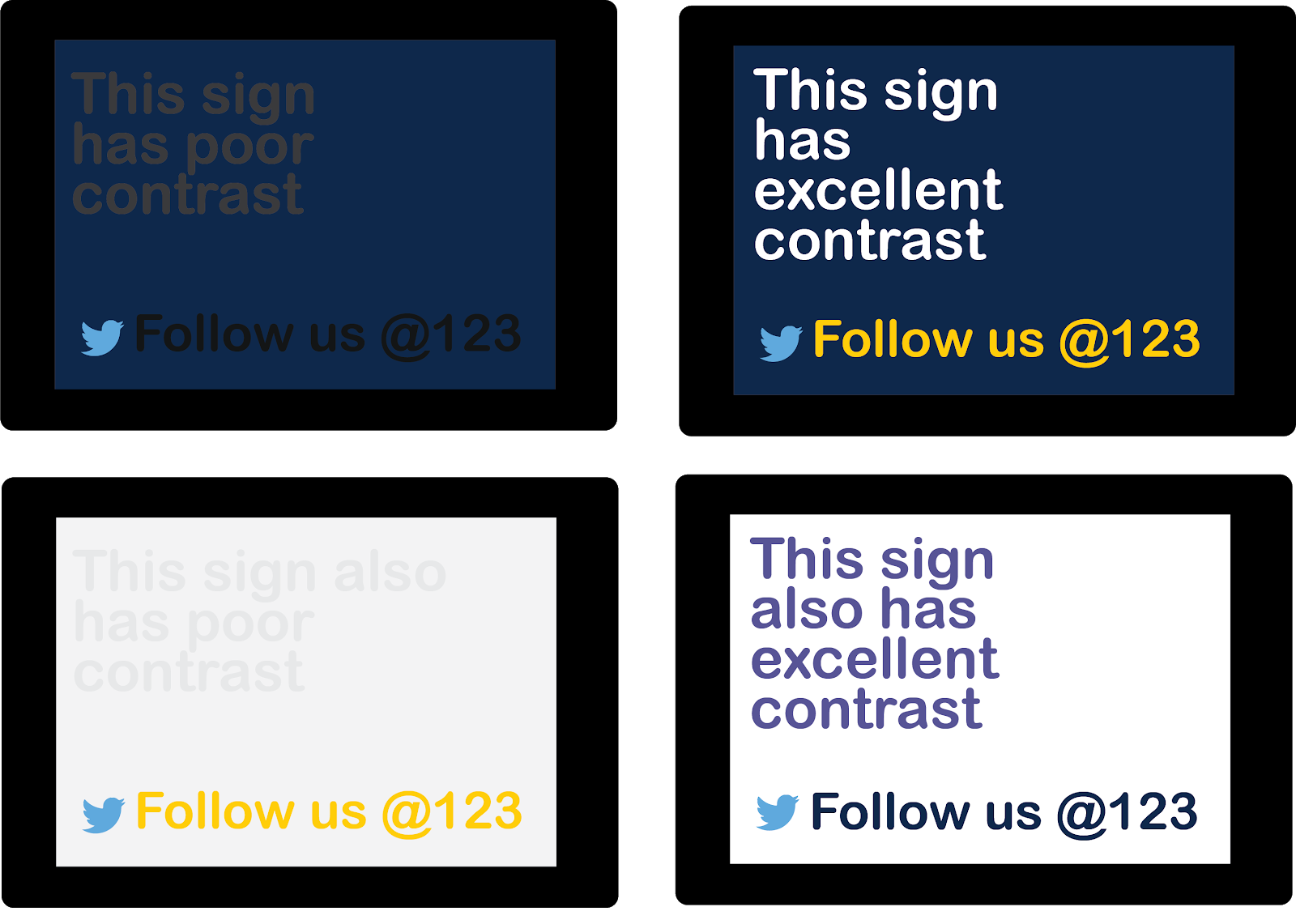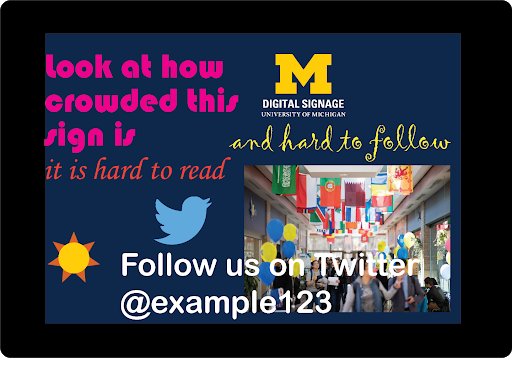 Developing the Best Practices Guide in Google Slides
​​​​​​​1. Familiarity
: Many users already know how to use Google Slides 
2. Consumable & Flexible
: Information could be broken up by topic on a slide, and users could easily navigate from one topic to another.
3. Dissemination
: The link to the presentation could be easily incorporated into the shared signage resources on the ITS digital signage website and would not require a download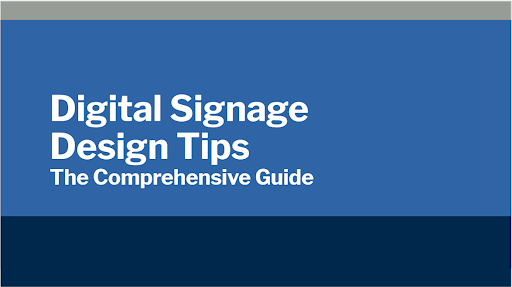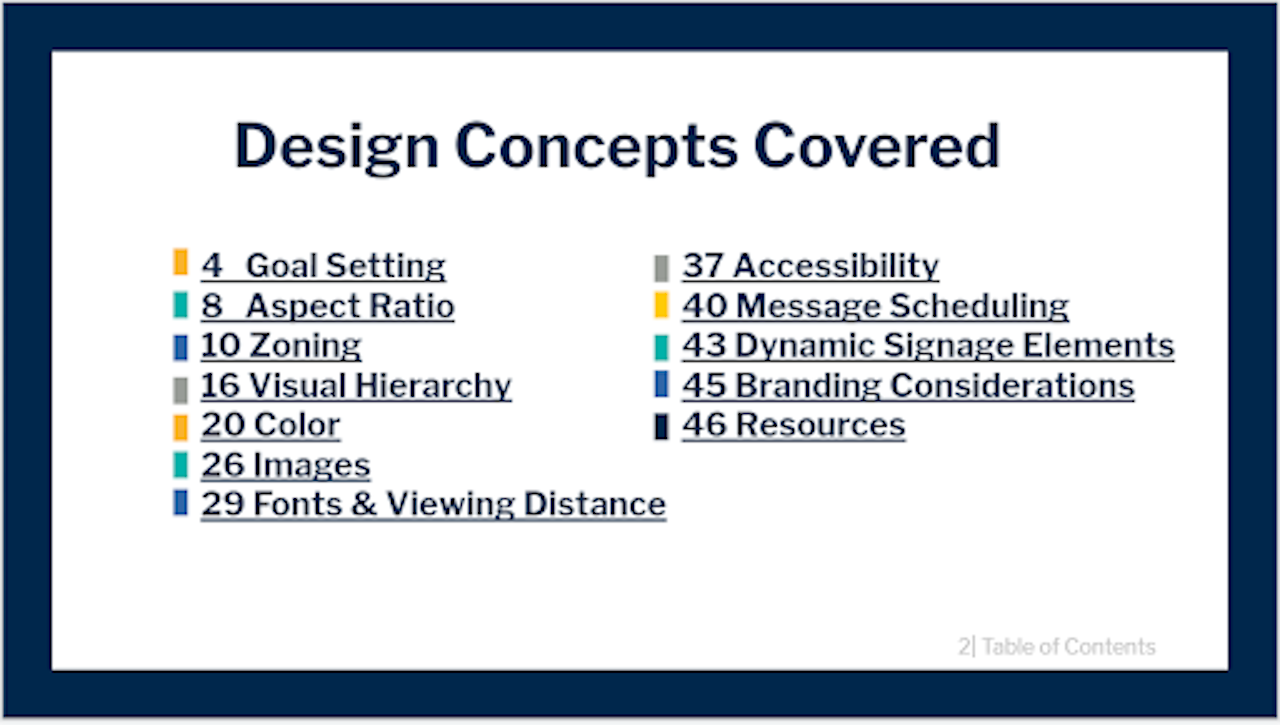 1. Use of Color:
 Assigning each design topic a color, users could see when they were in a new concept in the slide deck. 
2. U-M Specific Information:
The U-M VP Comm office provided a lot information and resources about how to manage the U-M Brand identity/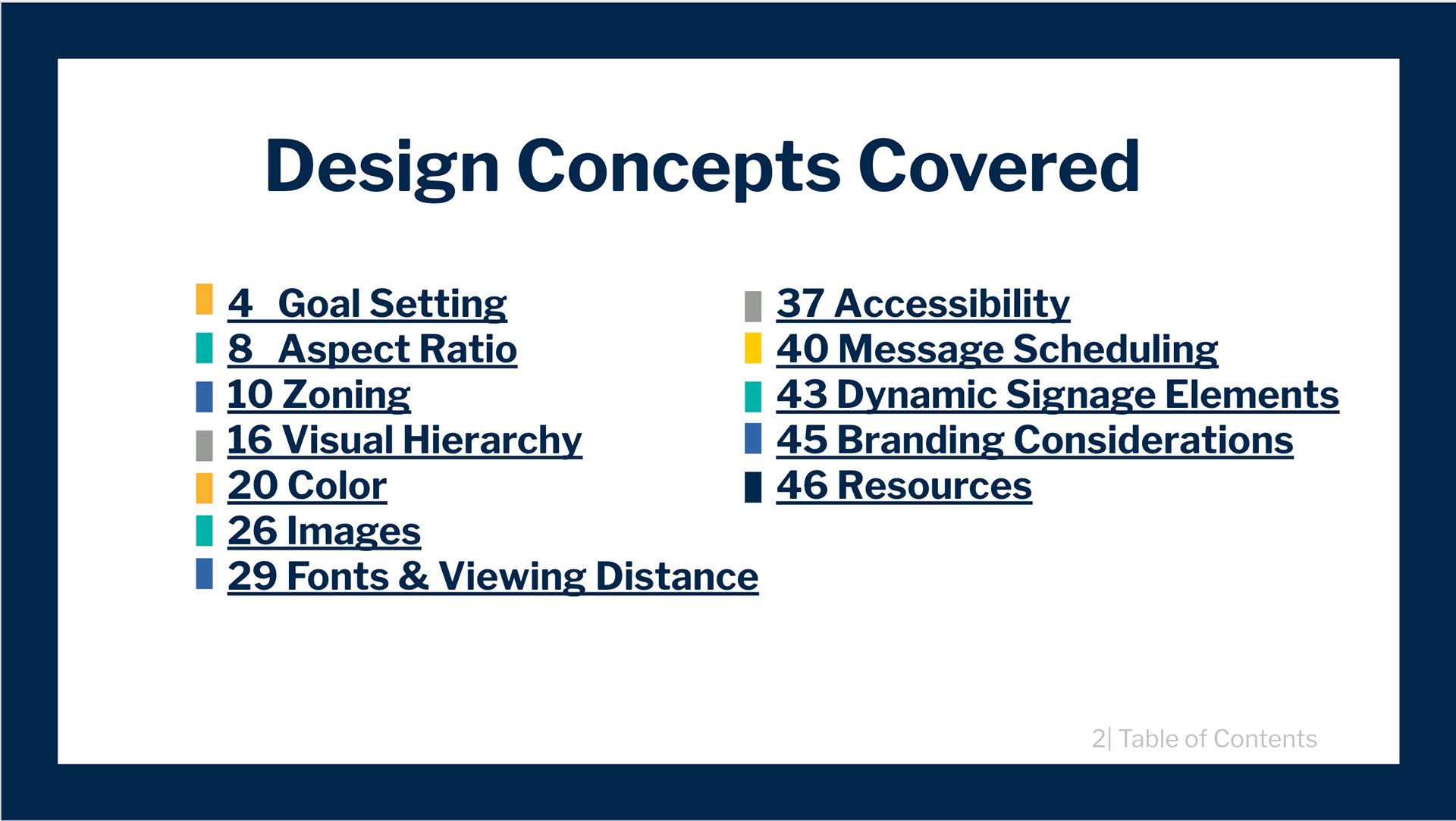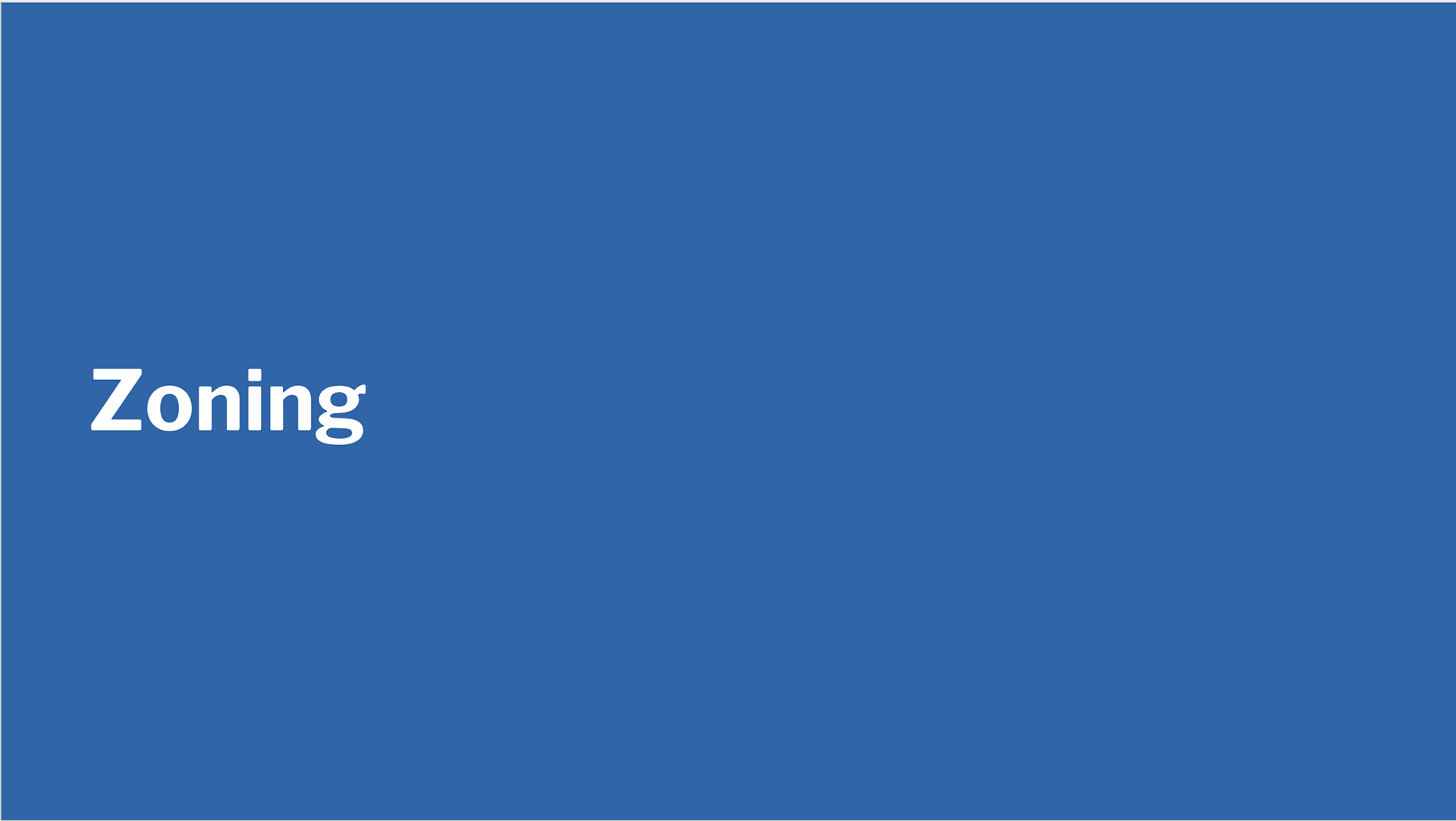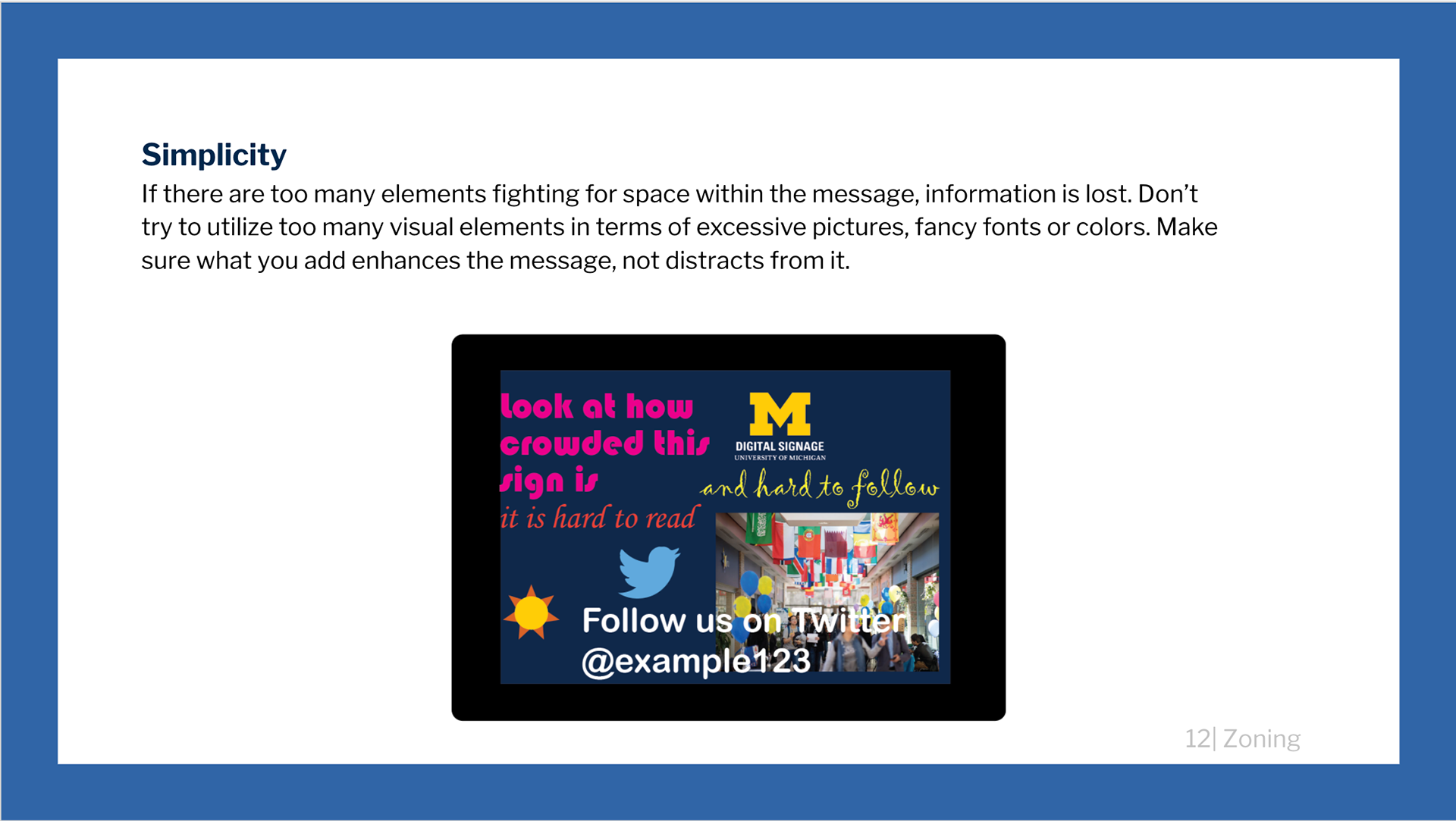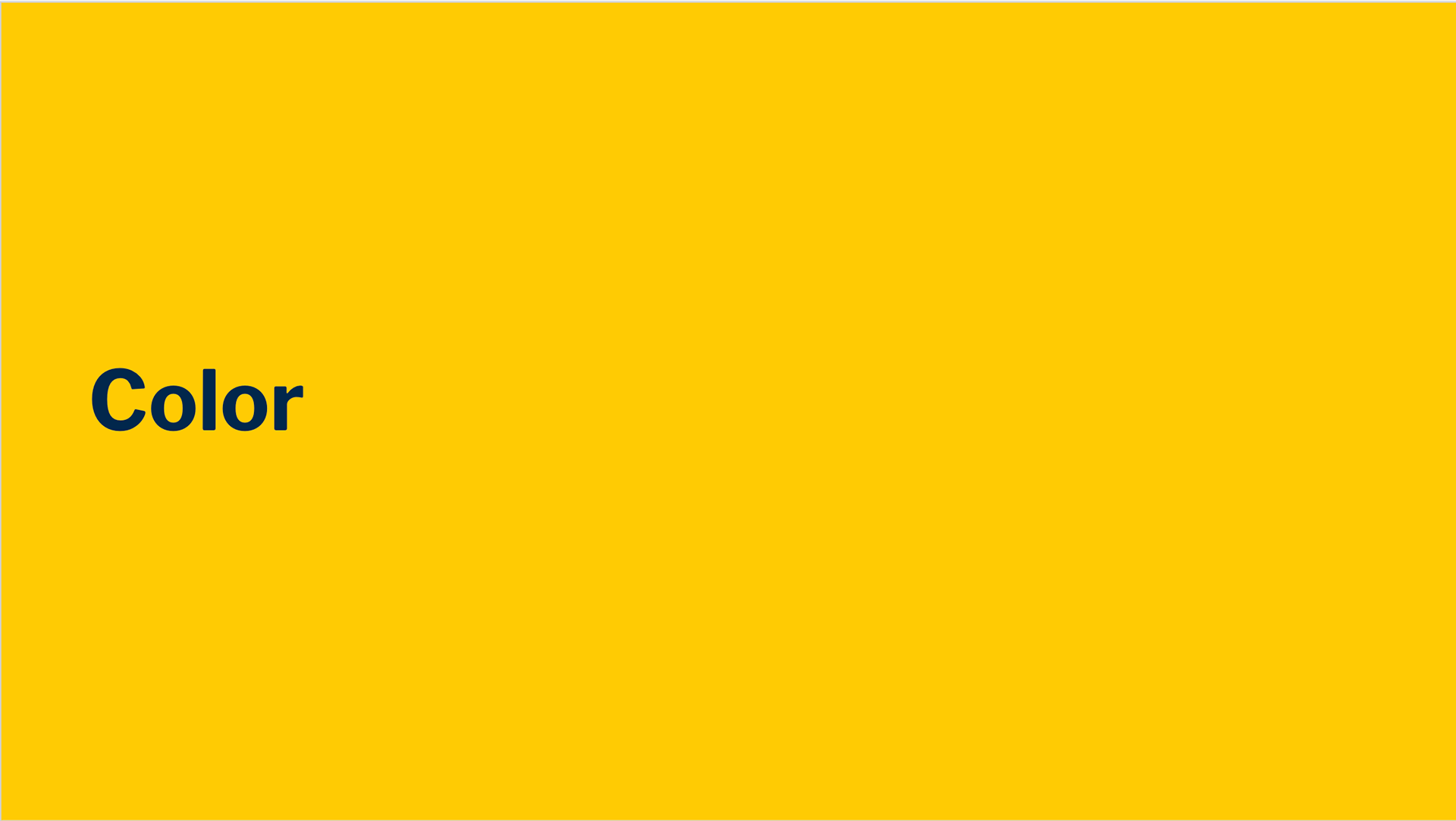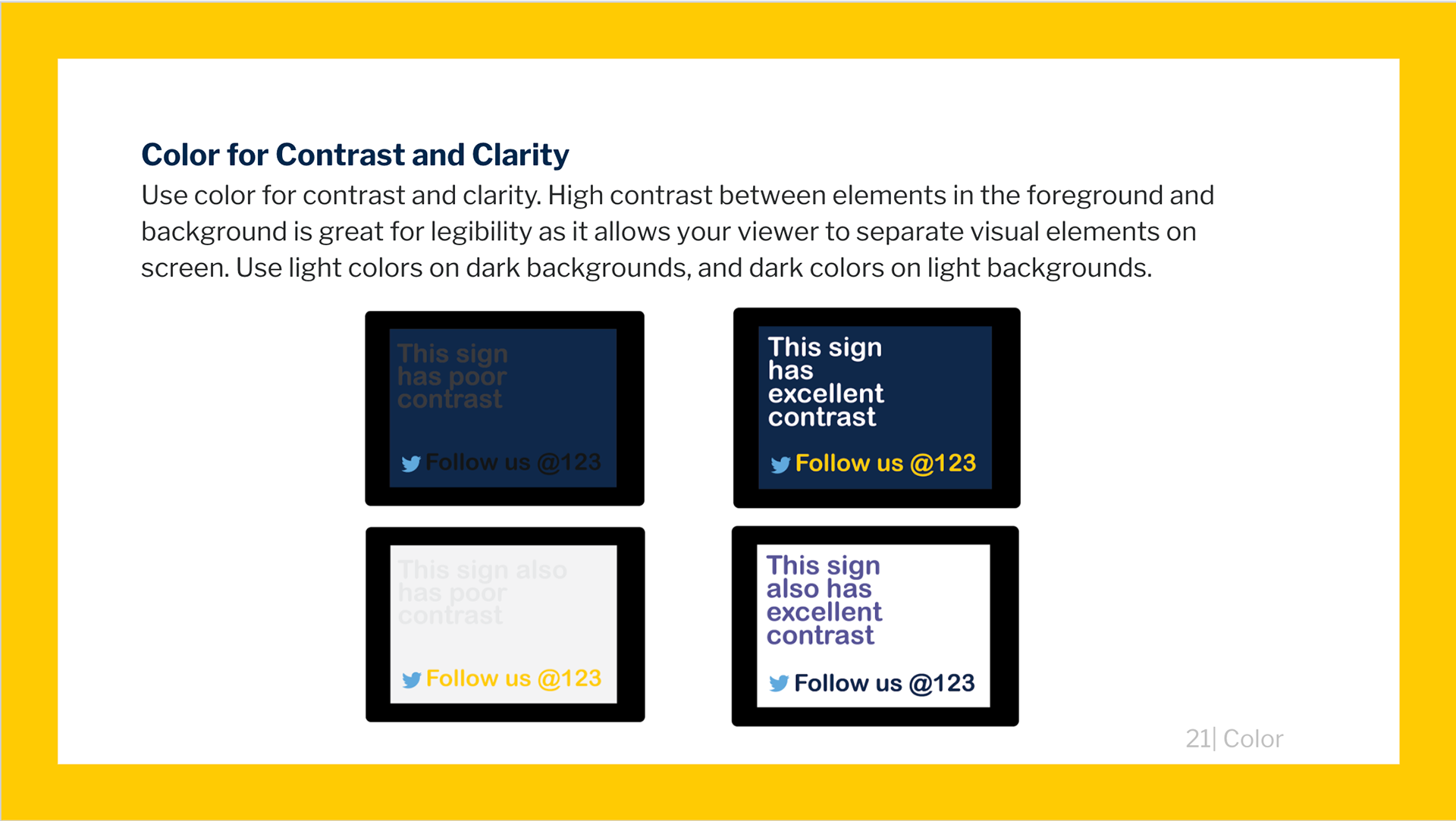 Pre-built Templates
​​​​​​​
Discovery: Learning about underused features
1. Zoning
: Signs are busy and dense 
2. Contrast
: Not using transparencies when appropriate 
3. Widgets:
The CMS has useful widgets to enhance signage
Brainstorm: 
Tailoring templates to signage customers 
Addressing areas of opportunity from sign evaluation
1. Provide Sign Builders with a clear idea of how to present content based on expectations of exposure, location, & readability
2. Sign Builders may not be taking advantage of the dynamic and interactive digital signage offerings.
3. Sign Builders use digital signs to highlight events. 
Sketching & Wireframing: Flexible ideas around commonly used content types 
1. Provide Sign Builders with a clear idea of how to present content based on expectations of exposure, location, & readability
Achieved through:
Zoning, Contrast, Typography, Color 
2. Sign Builders may not be taking advantage of dynamic and interactive digital signage offering.
Achieved through:
Motions/Transition, CMS Widgets
3. Sign Builders use signs to advertise events
Achieved through:
 Incorporating flexible regions for flat images. 
Developing Templates in the CMS
I built out the sign templates in the CMS and learned about the  intricacies of the sign building process and the hurdles that the backend presents when building digital signs that incorporate things such as scheduling and transitions. 
I successfully developed over 15 signs in portrait & landscape orientation that adhere to & promote digital signage best practices. ​​​​​​​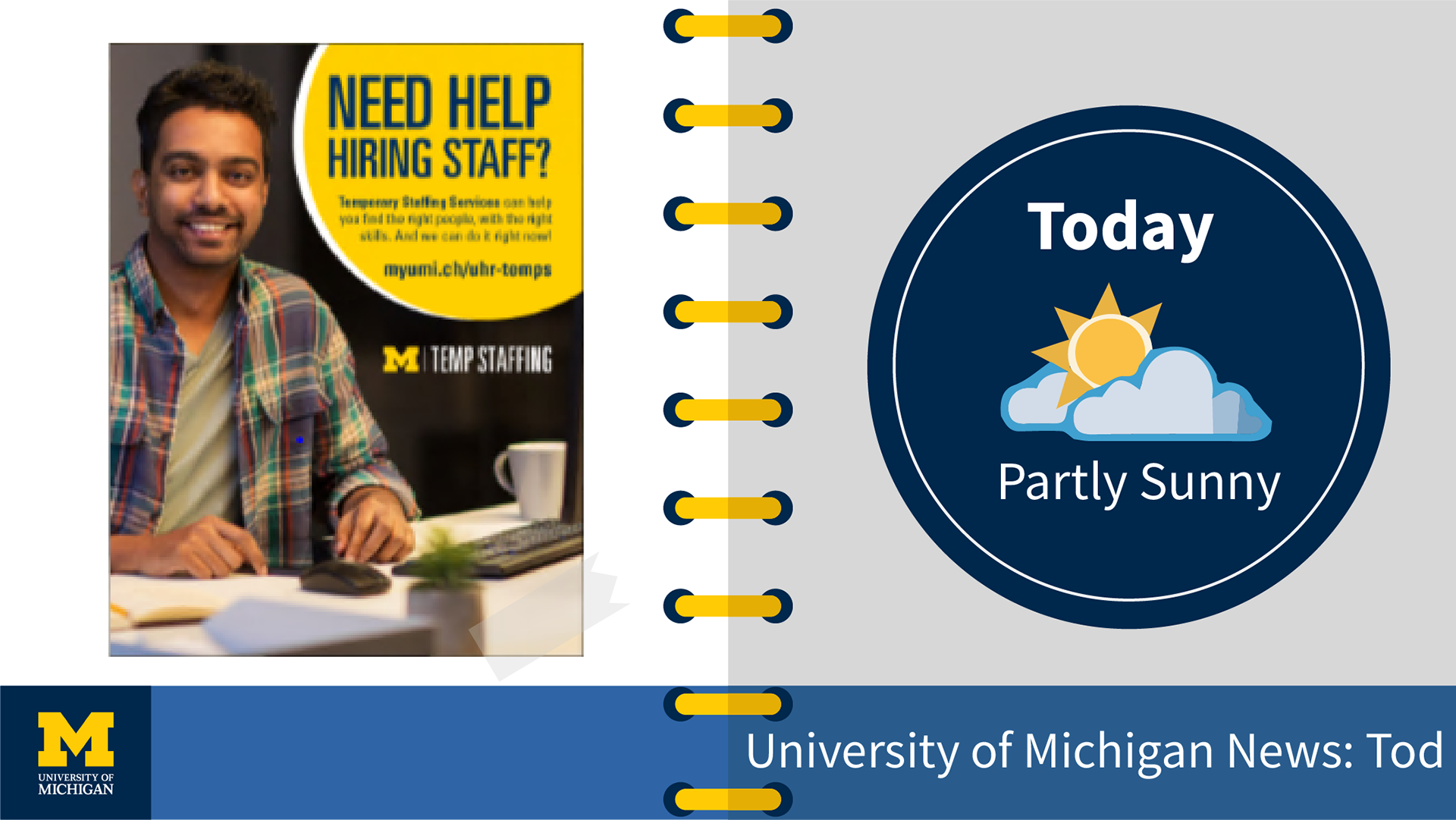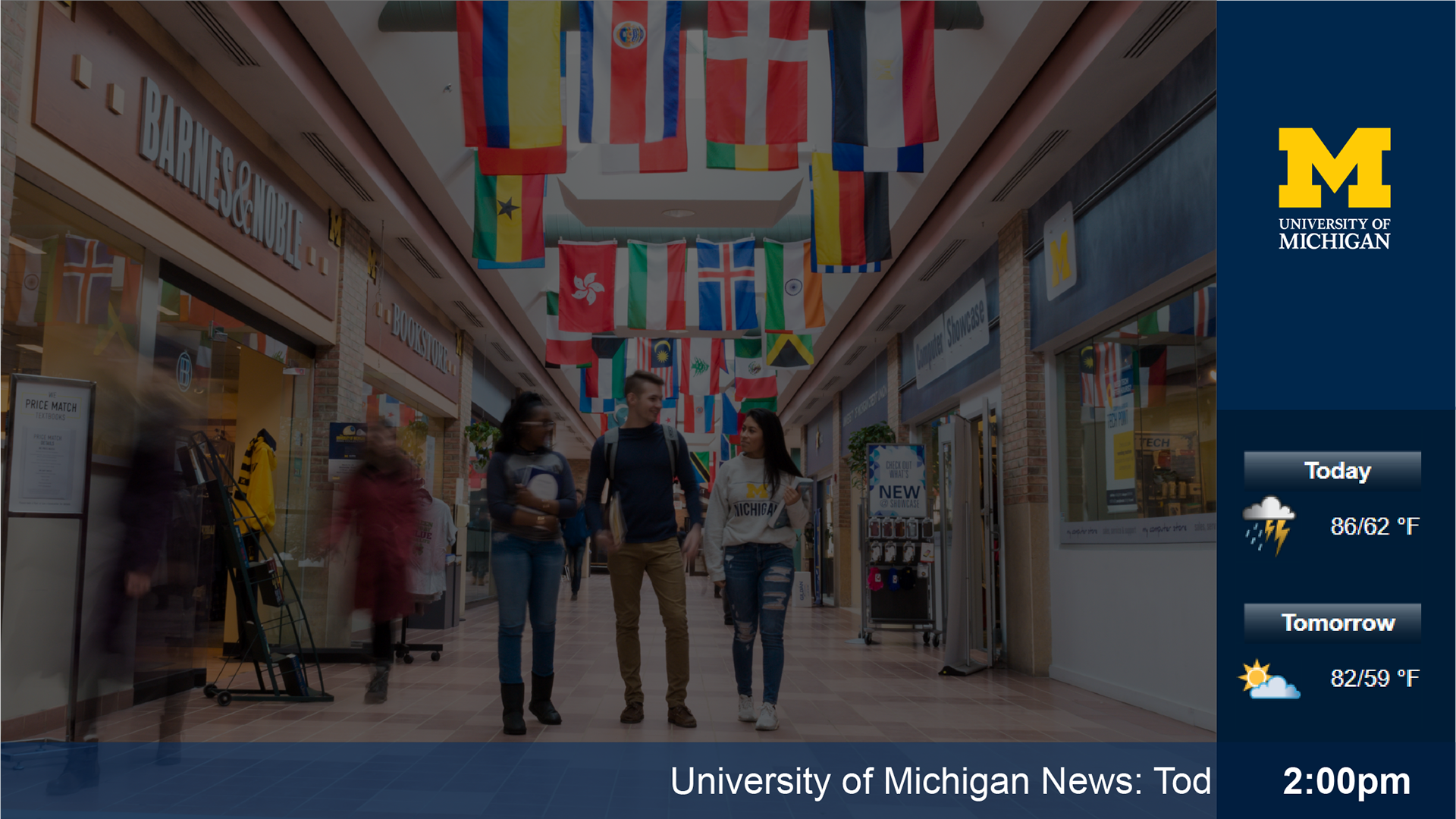 Testing
pre-built templates with existing customers
I worked with a unit on campus to upgrade their sign using a pre-built template. Their existing signage had readability and zoning issues. I worked with the unit/department to learn about the direction they wanted to go with their sign and content they wanted to highlight. 
The pre-built template has significantly improved the presentation of their sign content and fits the type of content they want to show. I am currently collaborating with them to incorporate additional content on their sign and will provide images once finalized. 
The Template Storefront
Discovery: Delivering pre-built templates to customers 
1. The CMS is not user-friendly for signage customers 
2. Sign Builders have inherited digital signage responsibility and are not  designers
1. Improve the presentation of Digital Signage across campus by assisting digital signage builders with the production of digital signs
2. Enhance the service strategy of ITS by making a sign builder's job easier through limiting CMS usage, providing design solutions,  and anticipating maintenance/updates. 
Target Users: 
Sign Builders 
Brainstorm & Product Strategy: Need based options
Providing flexibility to customers through options 
Option 1: Whole Template - the entire template + content items
Option 2: Template Only - the layout used in the template only
Option 3: Content Only - content items used in template (marquee)
Option 4:  CMS Application - Application to be configured in CMS

Sketch & Wireframe: Designing a catalog for browsing pre-built resources 
View Template: Ability to view full catalog of pre-built templates & options
Select Template: User selects the option that best suits their needs
Use Template: User downloads template and/or learn how to use in CMS